JNCU BA 3rd Sem Time Table 2023 jncu.ac.in Jananayak University back paper, Regular Exam will be released the JNCU Date Sheet 2023 for Time Table Regarding For BA BSC BCOM 3rd Semester. JNCU Pariksha ki tarikh 22 March 2023 can be found on official website,
JNCU exam date 2023 contains information on the exam date, time, session, and subject. Exam forms and costs must be submitted by students in order to take the exam. For latest updates on JNCU Pariksha kab hoga 2023, read this article
JNCU  ba 3rd Sem Admit Card 2023 कब डाउनलोड होगा ?
जननायक चंद्रशेखर विश्वविद्यालय के समस्त विद्यार्थियों को सूचित किया जाता है कि आप सभी लोगों की परीक्षा 22 मार्च 2023 से शुरू होगी जिसमें बहुत सारे विद्यार्थियों का यह कहना था कि परीक्षा का प्रवेश पत्र कब से मिलेगा मैं आपको बता दूं कि 20 मार्च 2023 को विश्व विद्यालय की ऑफिशियल वेबसाइट https://jncu.ac.in/ पर जाकर के आप अपने प्रवेश पत्र को डाउनलोड कर पाएंगे ।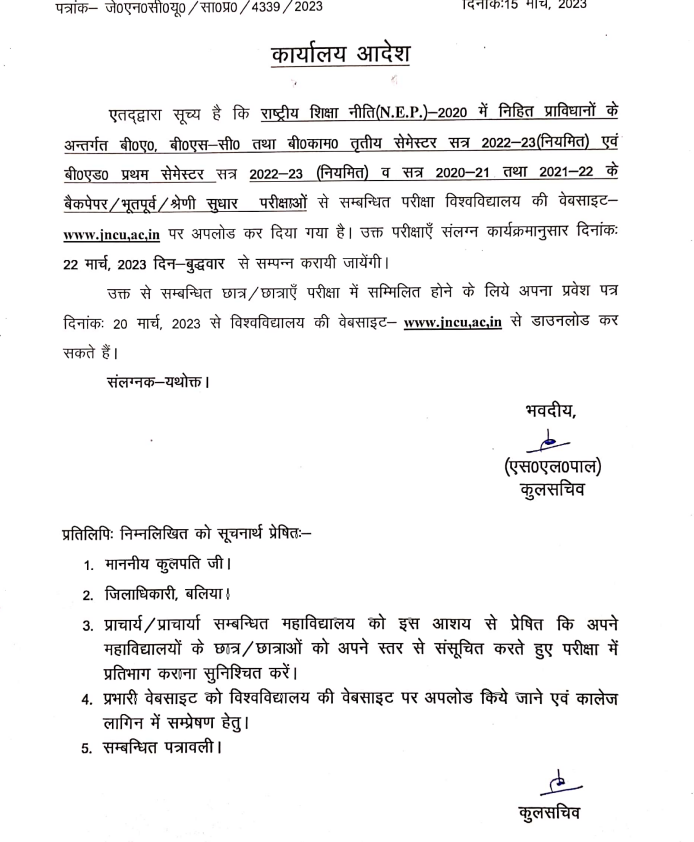 | | |
| --- | --- |
| University Name | Jananayak Chandrashekhar University (JNCU) |
| jncu BA BSC BCOM 3rd Semester Exam Date | 22 मार्च, 2023 |
| jncu admit card date | 20 मार्च, 2023 |
| Category | University Time Table 2023 |
| Ballia Official Site | jncu.ac.in |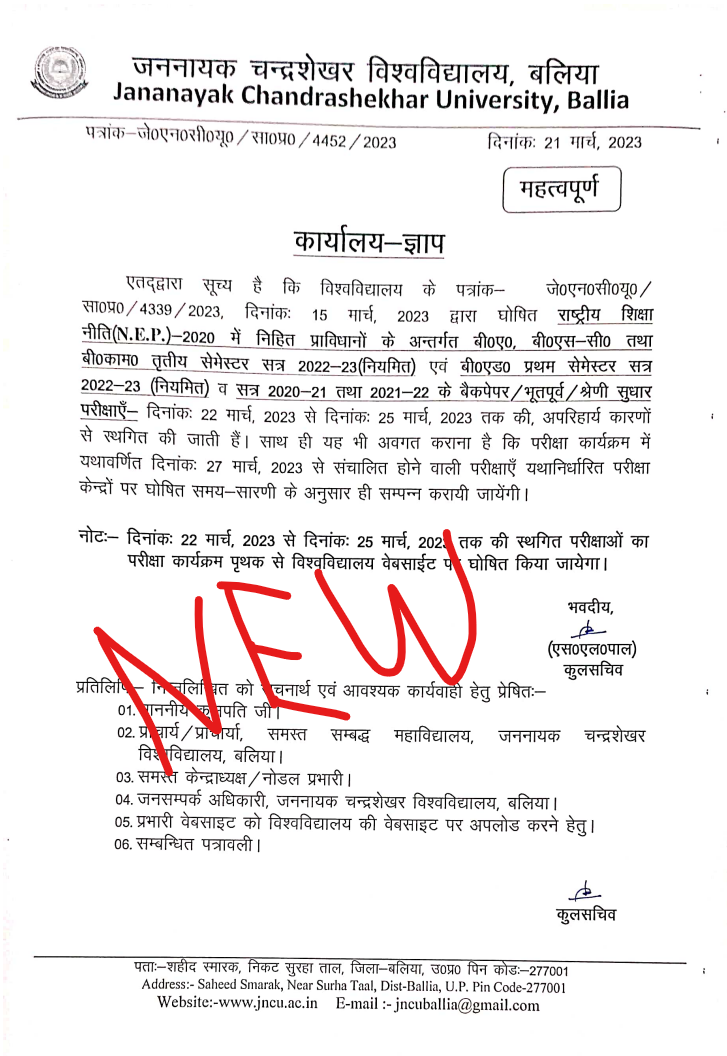 JNCU BA BSC BCOM 3rd Semester OLD Time Table- Click Here
JNCU BA BSC BCOM 3rd Semester New Time Table- Click Here
कार्यालय आदेश
एतद्द्वरा सूच्य है कि राष्ट्रीय शिक्षा नीति(.४.०.)-2020 में निहित प्राविधानों के
अन्तर्गत बी0ए0, बी0एस-सी0 तथा बी0काम0 तृतीय सेमेस्टर सत्र 2022-23(नियमित) एवं
बी0एड0 प्रथम सेमेस्टर सत्र 2022-23 (नियमित) व सत्र 2020-2। तथा 2027-22 के
बैकपेपर/ भूतपूर्व / श्रेणी सुधार परीक्षाओं से सम्बन्धित परीक्षा विश्वविद्यालय की वेबसाइट-
https://jncu.ac.in/ पर अपलोड कर दिया गया है। उक्त परीक्षाएँ संलग्न कार्यक्रमानुसार दिनांक:
22 मार्च, 2023 दिन-बुद्धवार से सम्पन्न करायी जायेंगी।
उक्त से सम्बन्धित छात्र,"छात्राएँ परीक्षा में सम्मिलित होने के लिये अपना प्रवेश पत्र
दिनांक: 20 मार्च, 2023 से विश्वविद्यालय की वेबसाइट- %४४-४८७५७०/॥ से डाउनलोड कर
सकते हैं